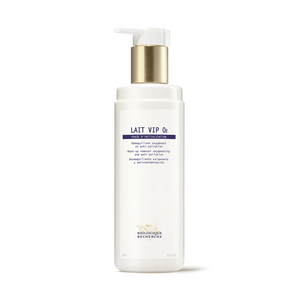 Oxygenating And Anti-Pollution Cleanser
• MAKEUP-REMOVING • OXYGENATING • PURIFYING
Lait VIP O2 is the anti-pollution cleanser, purifying the skin of tiny polluting particles that are sometimes even smaller than the pores on the face. Its deep-down cleansing action will remove the urban pollutants that accumulate on the skin's surface. Pristine again, skin regains its natural radiance and the complexion lights up with a fresh glow.
Recommended for asphyxiated and dull skin.
 *This product is pregnancy-safe
INSTRUCTIONS FOR USE
1. Lather with smoothing strokes from the center outwards, starting on the décolleté and working your way up to the top of the face
2. Remove with damp non-woven gauze pads
3. Repeat until all impurities have been removed
4. Dry with a paper tissue
PRECAUTIONS FOR USE
Do not use on children under 3. For external use only.
Available in 250ml