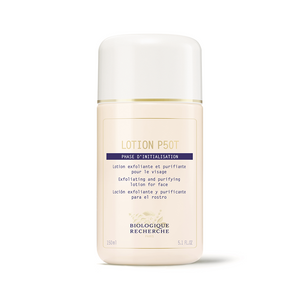 Exfoliating and balancing lotion for face
Recommended for Asian Skin
• EXFOLIATING • PURIFYING • TONING
Lotion P50T is a vitamin-enriched exfoliating lotion that gently purifies the skin and helps regulate excess surface sebum. It mattifies, hydrates and maintains the acid pH of the epidermis.
Recommended for seborrheic skin.
*This product is pregnancy-safe
INSTRUCTIONS FOR USE
1. After using a cleansing treatment, pour a few drops of the product on a cotton ball.
2. Using upward movements, apply to the face, neck, and décolleté, dabbing gently.
3. Do not rub in.
PRECAUTIONS FOR USE
Avoid contact with eyes. Not suitable for children. Do not use with a retinoic acid treatment or with products containing Alpha-Hydroxy-Acids (AHA). External use only. Avoid immediate exposure to the sun after the application of the product.
Available in 150ml