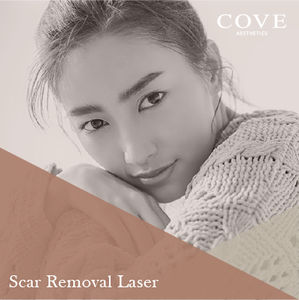 Do you have acne scars? Want smoother skin? We can help. Cove's Scar Removal Laser is a eCO2 laser that effectively treats acne scars that often form due to the loss of tissue and collagen from acne inflammation. 
To date, the eCO2 laser is regarded as the Gold Standard for treating deep acne scars!
Key Benefits:
- Improves the appearance of acne scars
- Improves skin texture & evens skin tone
- Stimulates collagen production for firmer and more radiant skin
- Minimal downtime 
- Reduces the size of enlarged pores
- Reduces age spots, pigmentation, fine lines, wrinkles & blemishes 
- Renew skin that has been damaged by the sun, aging, or smoking
Get on the journey to clearer skin.
Buy It Now to reserve your slot!
* Terms and conditions apply.
* Do note that individual results may vary
* Limited to one redemption per treatment per person. Additional can be purchased as gifts. 
How to make an appointment:
Call or WhatsApp
+65 9187 5700
with the following details:
First Name and Last Name
Order Number
Email address 
Preferred appointment date and time