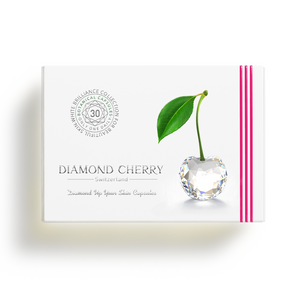 100% natural vegan food supplement, safe for everyday use over long periods of time.

DIAMOND CHERRY - a Swiss brand which was created on the shores of a lake in Zürich, Switzerland in 2018 by Dr. Anastasov
By its unique scientifically proven ingredients in a completely natural way, it helps the body diminish the need to produce melanin – a substance mostly needed for skin protection. It has been shown that ROS (reactive oxygen species) produced by UV light and urban pollution are highly relevant to skin pigmentation, and that therefore enhancing internal antioxidants is an effective method of preventing oxidative damage.
Thus, in a natural way the Diamond Cherry White Brilliance Diamond Up Your Skin Tablets facilitates the increase of our internal antioxidant defense system against oxidative stress and gives our body the needed healthy comfort and protection*.
Take only one tablet daily.
*Afaq, F.; Adhami, V. M.; Ahmad, N.; Mukhtar, H. Botanical antioxidants for chemoprevention of photocarcinogenesis. Front. Biosci. 7:784– 792; 2002