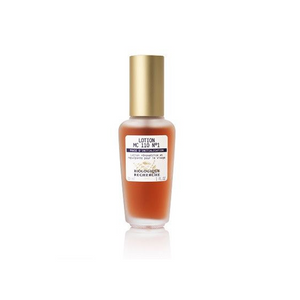 Repairing and plumping lotion for the face
• EXFOLIATING • PLUMPING • RENEWING
Lotion MC110 N°1 is a plumping and repairing beauty booster that gently exfoliates even the thinnest skin. Marks and irregular skin are smoothed out, while wrinkles and fine lines fade away. The facial contours appear redefined, and skin is toned and moisturized.
Recommended for thin to normal skin.
*This product is pregnancy-safe
INSTRUCTIONS FOR USE
Lotion MC 110 N°1 is to be used as a 10-day course of intensive treatment
Apply the lotion with a cotton pad, dabbing over the face, neck and décolleté using upward strokes.


PRECAUTIONS FOR USE
Use with caution in the area around the eyes. In case of contact, rinse thoroughly with clean water. Avoid sun exposure immediately after applying the product. Do not use on children under 3, nor on scratched or irritated skin. For external use only.
Available in 30ml